"Every single time I go in I have a great experience from the girls at the front desk to all the wonderful MD's. This office just makes you feel as you're part of the family. I wouldn't think of going anywhere else. I highly recommended coming here—not for just pregnancy—but all your woman needs!!!" - Brittany E
Whether You're:
Just Stepping into adulthood

Experiencing your first pregnancy

Dealing with a gynecological problem

Entering menopause
Our knowledgeable staff is here to help you…
How would it feel to:
Be confident in the care you're receiving?

Have someone take the time to fully explain all of your options to you?

Trust that your doctor has your best interests at heart?

Know that you're safe and cared for—all judgments set aside?
Well, you're in the right place.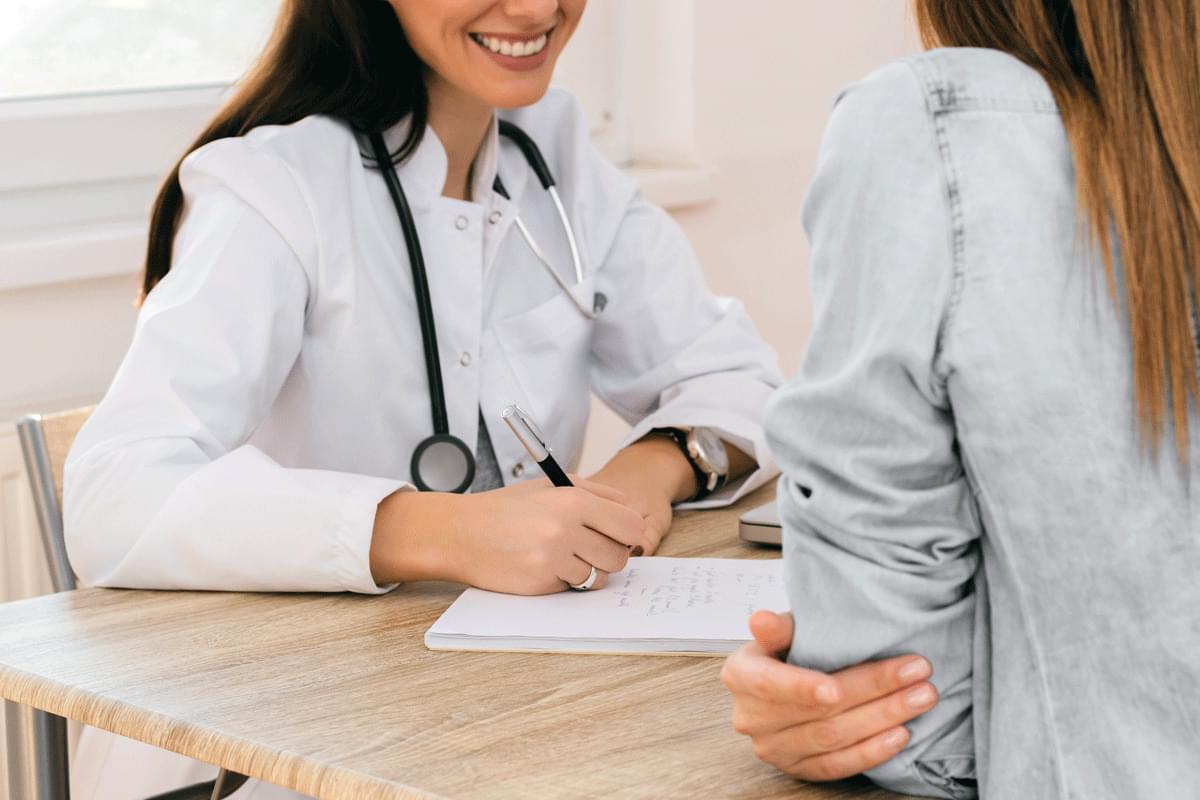 Welcome to Capital OB/GYN, Sacramento.
No matter what stage of life you are in, your race, religion, or socioeconomic status, we're dedicated to treating all patients with respect, dignity and kindness they deserve.
You can find out more about us, including how patients say they enjoy our office so much they "miss coming to their [prenatal] appointments" after delivery, the accumulated 50 +years of experience our providers have, and the wide variety of services we provide. From your routine pap smear to dealing with your gynecological problem, we are here to help you.
More about us
"Not only is everyone in the office incredibly friendly, helpful and knowledgeable, but every doctor I have seen has been patient, supportive and provided incredible care." - Lauren G.
How can we help you?
Obstetrics
There's nothing better than having a baby—except for maybe "having the baby." That's why we work closely with you so you can have the best possible pregnancy and birth experience, and help you create a birth plan that you feel good about.
Learn More
Gynecology
Whether you are coming in for your annual exam or are dealing with an abnormal pap smear, infertility or complications from menopause, our experienced doctors and staff are here to help you.
Learn More
"I've been coming here since I was 17. The doctors and nurses are amazing! I've had 2 babies and I wouldn't trust my life with anyone else. Thank you Capital OBGYN." - Jacquilyne P

Whether you're at work, on the road, or at home, you can view test results, messages from your doctor, and your key medical information.
From our patients
Dr. Melchione was one of the best OB/GYNs I have ever visited! I would have never considered visiting a male Gynecologist but after two trusted acquaintances recommended him, I made the appointment. He has a great bedside manner and is very patient and informative. He explains everything before he does anything and is happy to answer any questions. He works out of the Cadillac facility as well as the West Sac facility. I have only visited the West Sac facility, but it was very trendy, clean and kind of modern looking.
Heather D.
Rancho Cordova
Thanks for all your ongoing care. We so greatly appreciate it. Thanks for your understanding, and always being so nice and considerate and above all caring.
Lisa
Thank you for the great prenatal care and the delivery of my son. I had a great experience and hope to have you as my doctor for my future children. Thanks again!
Andrea
Dr. Melchione is an extremely thorough and concerned physician. I have seen him for 12+ years and his consistent good care is very notable. I make this rating because he belongs in an elite group of great physicians.
Dr. Bob is an excellent Dr. He is very knowledgeable and does not hesitate during appointments. He gets right to the point and is always reassuring. I trust his professional opinion on everything. He has been my Ob/Gyn for 10 years now and I have never been more comfortable. Dr Bob is great.
Dr. Bob, has to be the most expedient and thorough Dr. I have ever had. His experience and expertise make him able to diagnose a treat problems NO ONE else could find even as the symptoms presented themselves in the exam rooms. Dr. Bob is a WONDERFUL Dr. and person!
Dr. Maagdenberg is very nice and professional doctor, very easy to talk to, and always smiling. I feel comfortable with her.
Irina
Dr. Melchione has been my OB/GYN for 18+ years. He has been there for me through my endometriosis, 2 children, etc.. He is extremely patient, understanding, and kind. He always goes above and beyond the call of duty. All of the staff is very kind. Some of them have been with him as long as I have and that says a lot about him. I highly recommend him and I will go to him as long as he is in practice.
Tamera
Dr. Bob is AMAZING. He has been my doctor through two pregnancies and he also performed my surgery when I unfortunately miscarried. He has seen and done it all, which makes me feel so comfortable having him as my doctor. He is professional, knowledgeable, and has a great sense of humor! I love how he knows his patients by name and I hope he sticks around for me to have Baby #3! I will be so sad the day he finally retires...Dr. Bob ROCKS!
Alana
I loved Dr Melchione. He was so understanding and he delivered my first son and was there when I had my second. I felt so special because after over a year since having my first son when I was in labor with my second, he remembered that I had delivered my 1st son earlier and even remembered my name! Now that is a caring doctor.
Katrina
Dr.Tanya Maagdenberg is professional, friendly, nice, understanding, kind and experienced physician. She is the best OBGYN I have ever visited. I highly recommend her and will go to her as long as she is in practice!
Tanya
Dr. Tanya Maagdenberg is very friendy nice and kind. She was there when I had my son with a c section. Thank you. You are a great doctor
Irina
I love this place!!! Very nice workers and doctors... And yes, they are very clean.. I am going to continue coming there..:)
Natasha
Dr. Melchione is incredible. He listens to his patients, he explains things so that anyone can understand...he's kind, and he has an amazing way of making you feel at ease. He has been with me through both of my pregnancies and c-sections...and everything in between. I can't imagine seeing another Dr. I highly recommend Dr. Melchione to anyone looking for an ob/gyn.
Linda S.
I LOVE Dr. Melchione!!! He delivered my second baby via C-section and was Great! He's very friendly and informative. I would highly recommend him to anyone! LOVE him!
Kasey P.
I was referred to Dr. Melchione over 20 years ago. He has been my GYN ever since then, caring for my needs during pregnancy and delivering 2 of my children! If I wasn't almost 40 after my 3rd child, I would have had more kids! He's very attentive, listening to my needs, always making sure we have addressed all issues and developing treatment alternatives for me to make an informed decision. My 2 daughters now go to him. He's stuck with us! I obviously highly recommend him
Julie
WE ACCEPT MOST MAJOR INSURANCES
Call Us Today To Make An Appointment
Office Hours: Monday - Friday | 8AM - 5PM